Periodontal Care - Bethlehem, PA
Invest in a Beautiful Smile
Much like High Blood Pressure, Periodontal (Gum) Disease is a "silent" disease. Most people do not know they have gum disease until their teeth become loose and fall out. Gum disease is a very serious disease of the mouth and it is the #1 reason adults lose their teeth.
Recent research has shown a direct correlation between periodontal disease and systemic health. Links have been shown with gum disease and an increase risk of stroke, heart attack, diabetic complications, and serious problems with pregnancy.
Signs of Gum Disease
Gums bleed while flossing
Red, swollen, painful gums- especially when brushing or during a teeth cleaning
Gum recession- gum tissue pulls away from the teeth
Gum Disease is a problem for your jaw bone as well as your teeth. As the gum tissue pulls away from the tooth a pocket is created for bacteria to enter. These bacteria can cause bad breath but more importantly it can eat away at the bone of your jaw and tooth causing the tooth to become loose. This can lead to tooth loss and infection.
To treat the Bacterial Infection and Gum Disease, maintaining good oral health is key. Regular visits to your dentist for cleanings, x-rays and checkups are vital to keeping a healthy mouth. You cannot do this alone. It takes a team effort.
Periodontal Treatment
Periodontal treatment can be used for the early and moderate stages of periodontal disease. Sometimes referred to as a "Deep Cleaning" this treatment involves removing the plaque and calculus (tartar) that has formed under the gum – In the area known as the gingival sulcus, or pocket, and smoothing the root surfaces of the teeth.
Local anesthesia is typically used to assure comfort during treatment. The area is then treated with medication such as antibiotics or antibacterial agents.
The goal of Periodontal Treatment is to bring the gums back to good health by shrinking or eliminating the pockets around the teeth that are the site of infection. We recommend good brushing and flossing at home as well as follow up visits every 3 months to help the gum tissue and the bacterial infection heal.
Top-Rated Periodontist Near Me
Periodontal Disease is a chronic condition and without continued treatment the infection and disease will recur. Each time it does, more bone is lost and the potential loss of teeth is higher.
We want to work with you as a team to heal your gums and preserve the bone of your teeth and jaw. We look forward to seeing you every 3 months for Periodontal Maintenance cleanings. We can discuss your progress at each visit and our hygienist can provide you with feed-back about the extent and depth of the pockets around your teeth. We will work together to tackle this chronic condition.
Meet Your Award Winning Dentist
The Proof is in Our Patients

Wow! I can't say enough amazing things about the incredible staff at Lehigh Valley Smile Design. I have never been more at home and comfortable at a dental office! Sam Anthony made me feel like we were best friends catching up. Both women at the front desk as well as the Dr. were also kind and knowledgeable! Can't believe I am saying this, but I now love the dentist!
Great office! Everyone is very friendly and welcoming and is amazing at explaining what's going on with your teeth. Most other offices I've been to they speak in dental terms, Which I do not understand and have to always ask what they are referring to. Nicole was very helpful and all the girls at the front desk! This is typically a far drive from my house but feel like it's well worth it!
I have been a patient of Lehigh Valley Smile Design for over a decade. Dr Michael Petrillo and staff are truly exceptional! They have my highest recommendation. Simply put, I live in SC and travel back to PA, because of this wonderful staff! "Sam is magic with the water pic, cleaning teeth"
MOST INSURANCES WELCOME AND MAXIMIZED!
Contact us and schedule your visit today. 
Most Insurances Welcomed and Maximized
Insurance works great in our office! Aetna, Delta, UCCI and many more. Call our office for more details.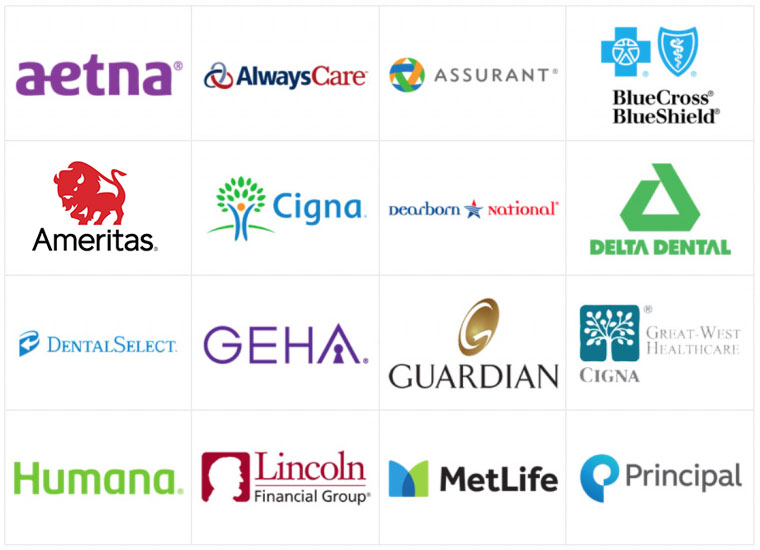 Have a question about insurance? Just ask!
OUR LOCATION Lehigh Valley Smile Designs
| | |
| --- | --- |
| Monday | 8:30 AM – 7:00 PM |
| Tuesday | 8:00 AM – 6:00 PM |
| Wednesday | 8:30 AM – 5:30 PM |
| Thursday | 7:00 AM – 6:00 PM |
| Friday | 9:00 AM – 2:00 PM |
| Saturday | SELECT SATURDAYS |
| Sunday | CLOSED |
A Full Array of Cosmetic Dentistry, and General Dentistry Options.
Open Daily For Your Convenience!
A State-of-the-Art Dental Facility to Best Serve Our Patients in Bethlehem, PA.